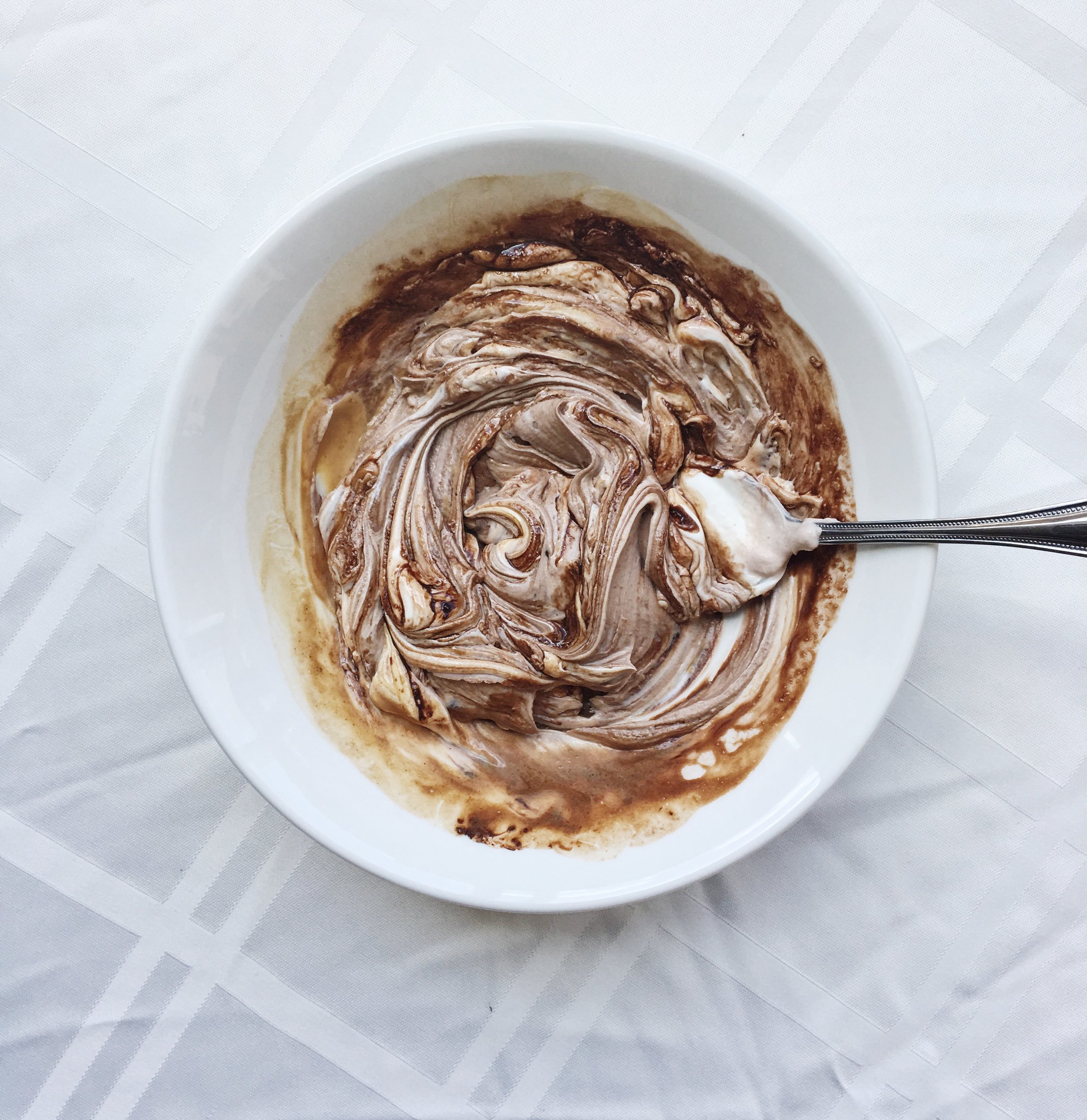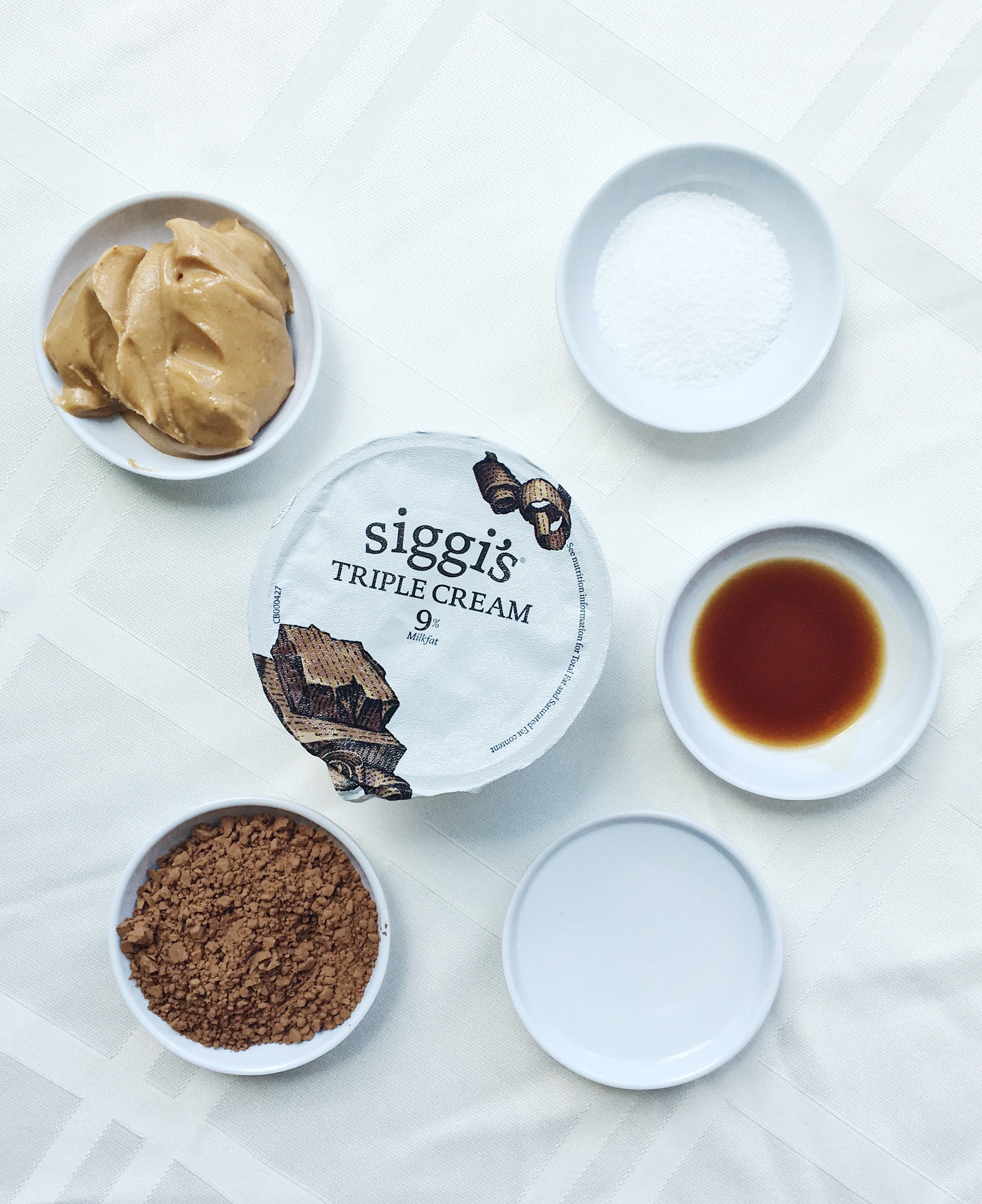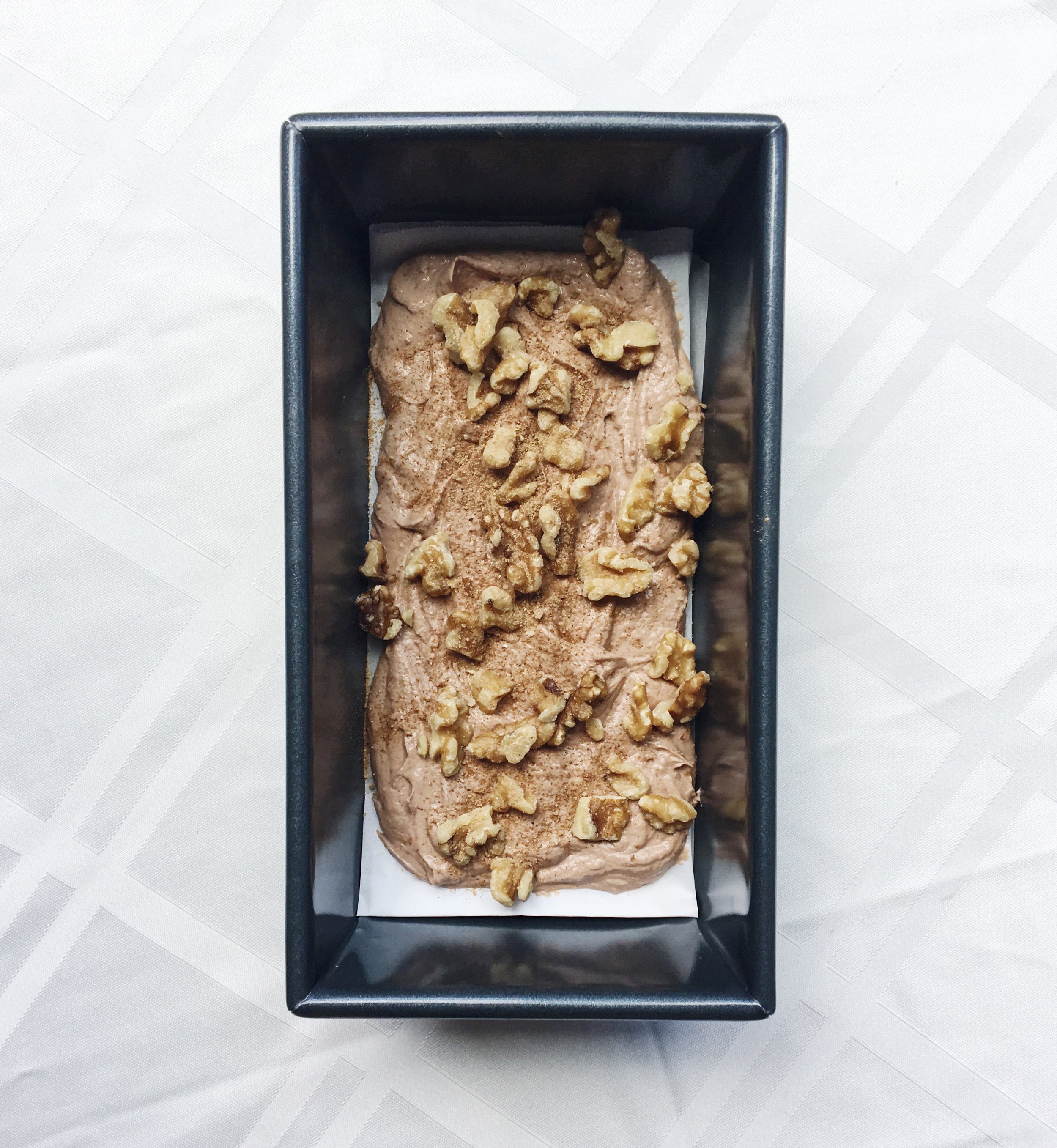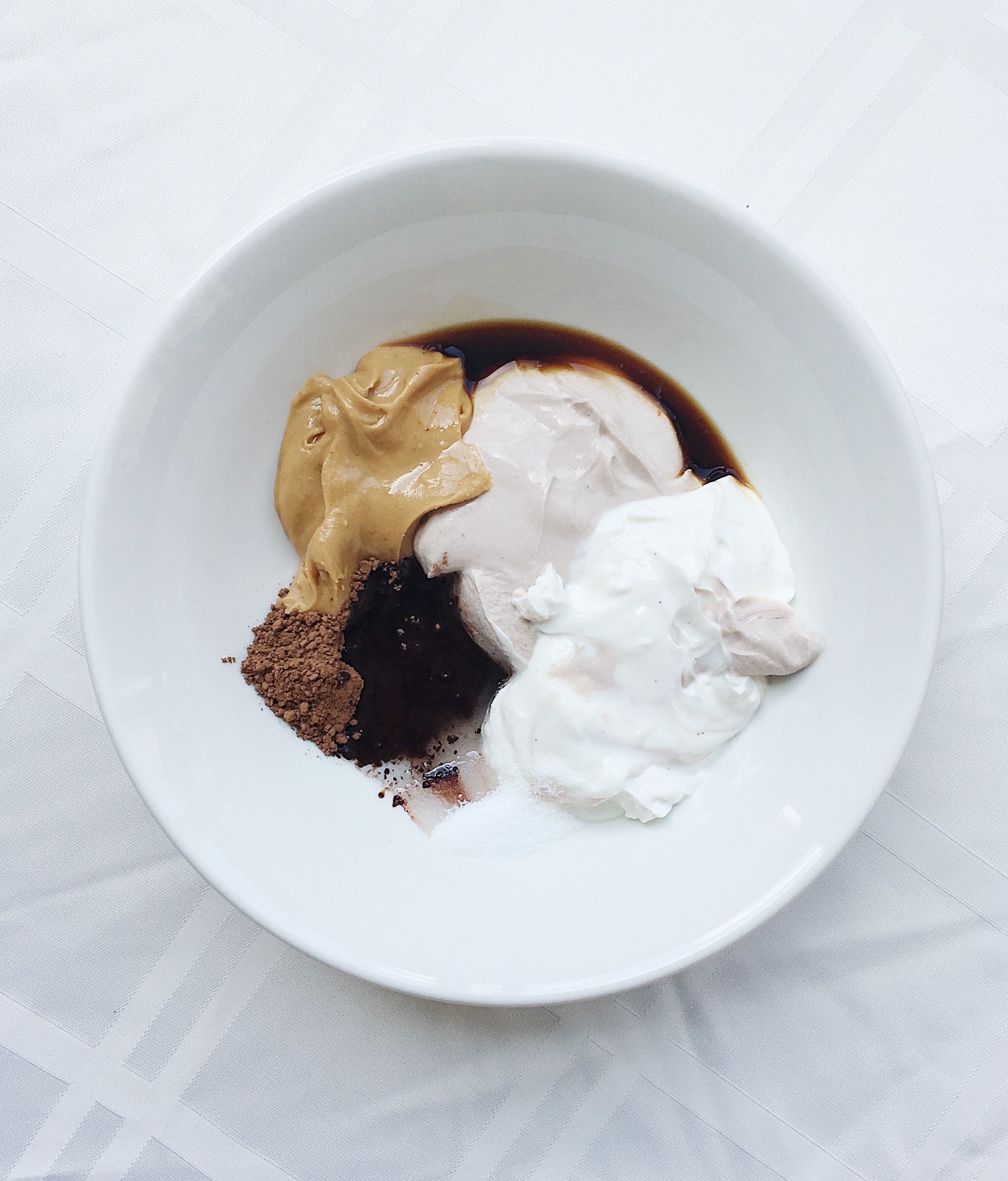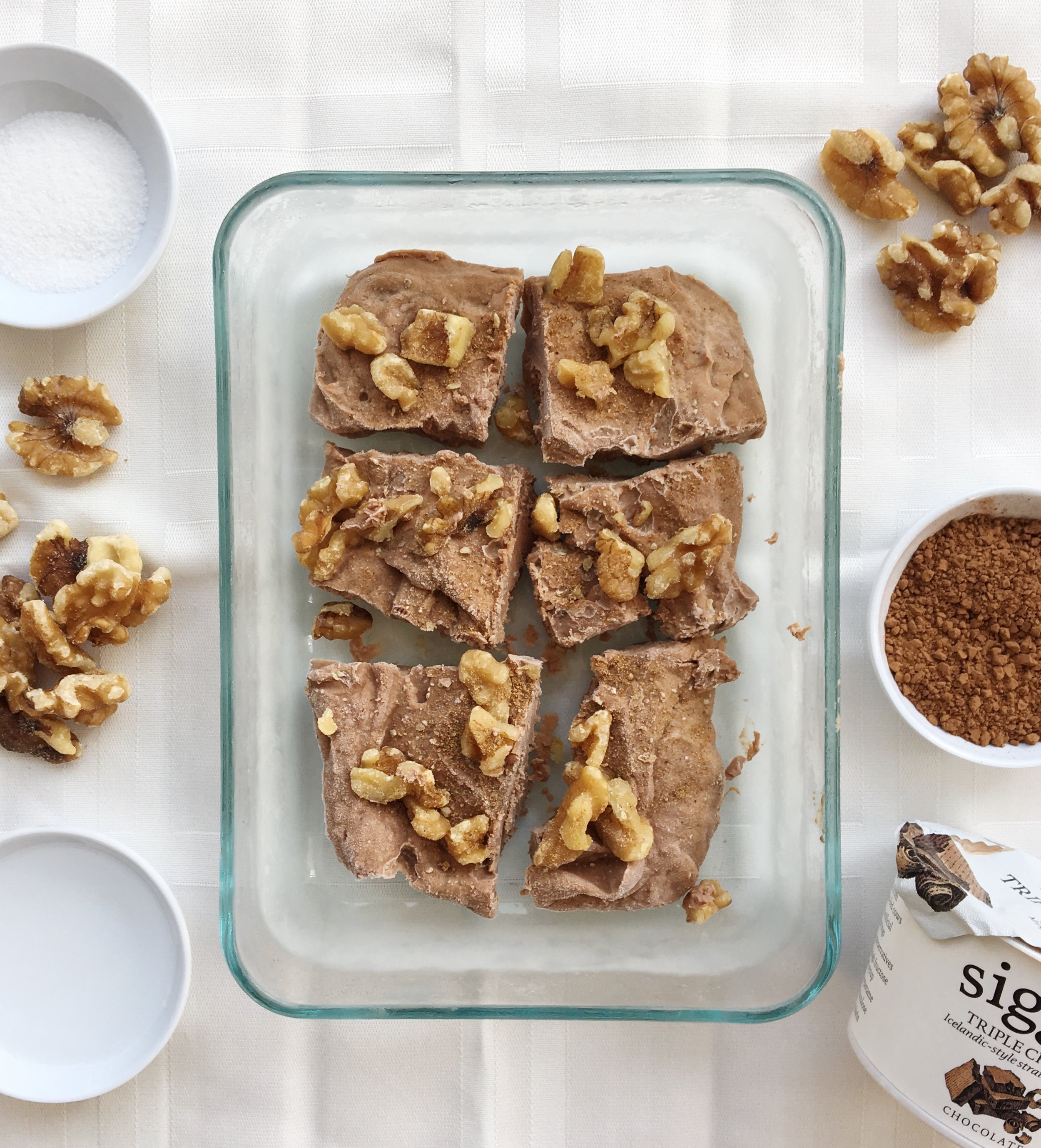 Summer is here‼ Got you guys another simple dessert recipe with siggi's skyr that you can feel GOOD about eating.
My friend Kate, who is a professor at Lehman College a City University of New York school, and I did our PhDs together. We just actually published a journal article on diversity in the field of dietetics – if anyone cares to read it!
Anyway, whenever Kate has one of her famous dinner parties, I am always the first one hunting in her freezer for her famous freezer fudge during appetizer hour, and probably the first one to request we take it out for dessert (can you tell I'm obsessed?).
Also, it pretty much melts in your hand so you can only take a small piece of it out at a time – this helps prevent me from eating the entire thing, it's that good!
I changed up Kate's recipe (with her permission!) by using siggi's (www.siggis.com) skyr, which is lower in sugar and high in protein, and uses simple ingredients (compared to other yogurts). Today I'm using siggi's triple cream chocolate skyr, which has 8gm of sugar and 9gm of protein (more protein than sugar!) per single-serving (114gm) container.
Have you tried siggi's triple cream skyr? It has 9 percent milk fat, giving it a rich, pudding-like texture. It's pretty awesome on it's own too as a dessert option!
Be sure to use a higher fat skyr like the triple cream or whole milk varieties when making this recipe – it freezes much better than a low fat or non-fat version. Also, I added walnuts and cinnamon to top it – but please feel free to use whatever toppings suit your fancy.
15 minute prep || Makes 8 servings
Ingredients:
¼ cup peanut butter (or other nut butter of choice)

1 Tablespoon honey or cane sugar (both work, but I'm using cane sugar here)

¼ cup cacao powder

2 teaspoons vanilla extract

2 Tbsp coconut oil (I'm using the liquid kind because I'm lazy!)

2 single-serving containers (4 oz) of siggi's triple cream chocolate skyr

Top with your choosing of: walnuts, cinnamon, dark chocolate chips, coconut flakes, cacao nibs, etc.
Directions:
Mix ingredients – you can mix with a spoon, you don't need an electric mixer!

Cut a piece of parchment paper and place in a loaf tin

Pour mixture into tin & spread evenly

Freeze overnight

Cut into 12 rectangles and keep in the freezer in a plastic bag or glass/ plastic container
This post was sponsored by siggi's. As always, all opinions are my own.
---
---
Read Next